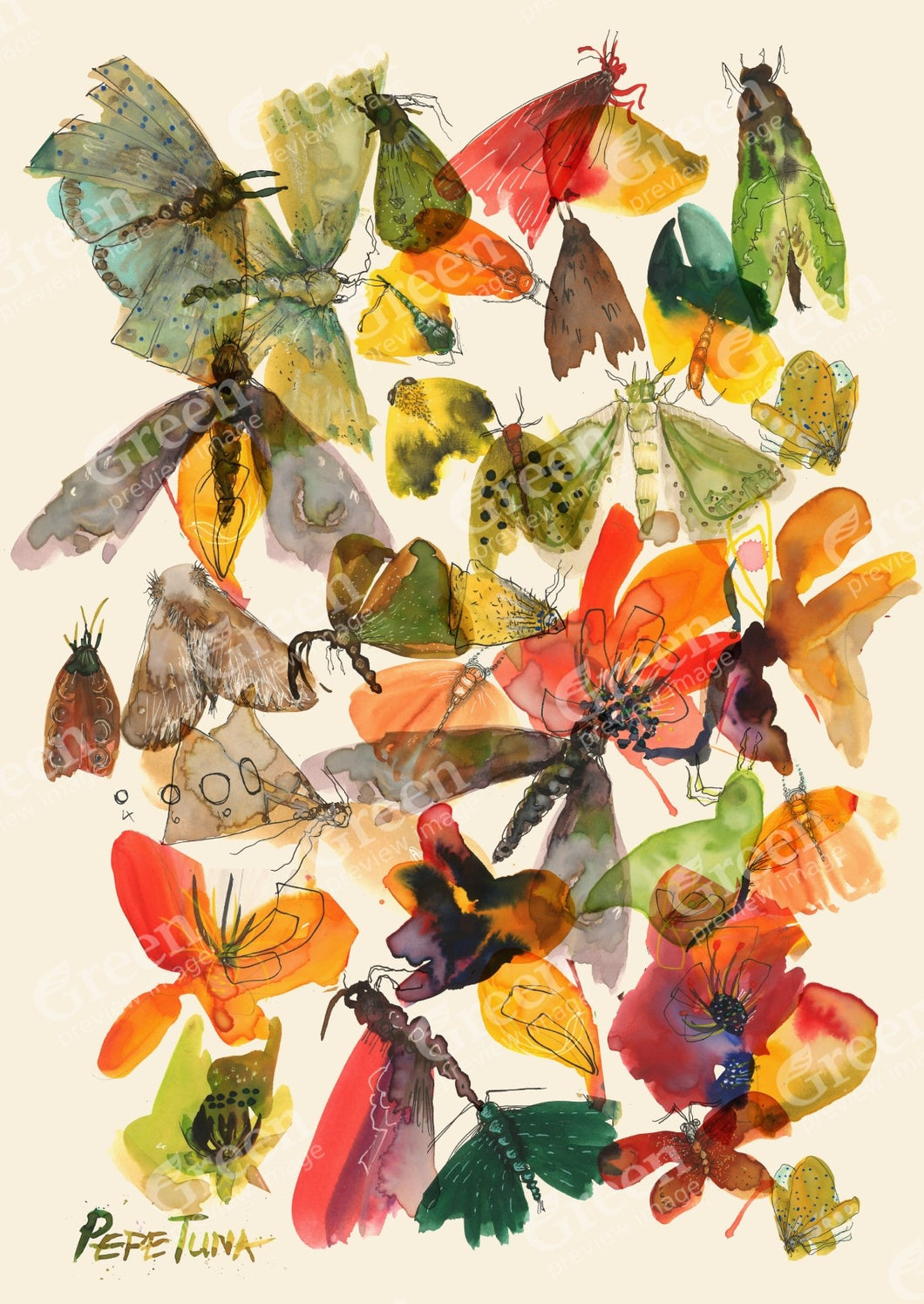 Pepe Tuna by Kirsten Smith (A2) - The Bigger Picture
Regular price $99.00 Sale
Pepe Tuna – Kirsten Smith
Orders close on 5 December for delivery by 15 December.
About the artwork:
An eclipse of moths. Pūriri moth, ghost moth or pepetuna.
According to a Ngāti Kahungunu tradition, an ancestor named Hinepeke (jumping woman) married Tūteahuru, a grandson of Tāne, god of the forest. They produced a vast number of insects and lizards that dwell within the earth, on the land or stones, and in the water.
One descendant was the pepetuna. Because it flies at dusk and into the night, commonly regarded as the realm of spirits, the pepetuna was known as a spiritual messenger, or a ghost of an ancestor returning to visit his or her descendants. This giant moth has huge, bright green wings that may span 15 centimetres. Bradford Haami, 'Te aitanga pepeke – the insect world - Moths', Te Ara - the Encyclopedia of New Zealand.
About the artist:
Kirsten T Smith is a painter and video artist that employs both traditional and digital media in the creation of beautiful layered 2D animations. She has a Master of Art from UNSW Art and Design in Sydney. She has exhibited in Sydney, New Zealand, Melbourne and Budapest and has been a finalist in the Wallace Art Awards, Publishers Cup Prize, Marrickville Contemporary Art Award, Beams Arts Festival and most recently the NZ Contemporary Art Awards 2019.

---
Posters will be shipped separately to anything else purchased on our online shop. They will be delivered in a cardboard flat-pack to ensure they arrive in perfect condition. Poster shipping is free.

Poster details: A2 (594mm x 420mm), 300gsm paper. Available in either Satin or Matte finish. Matte is recommended if you plan on framing the artwork (although satin looks great framed too - so choose satin if you aren't sure).
Note: Actual poster art does not include watermark.
This digital print is a part of the Bigger Picture - selling reproductions by artists across Aotearoa to help us raise funds for our 2023 general election campaign. Please click here to find out more about this initiative.
---