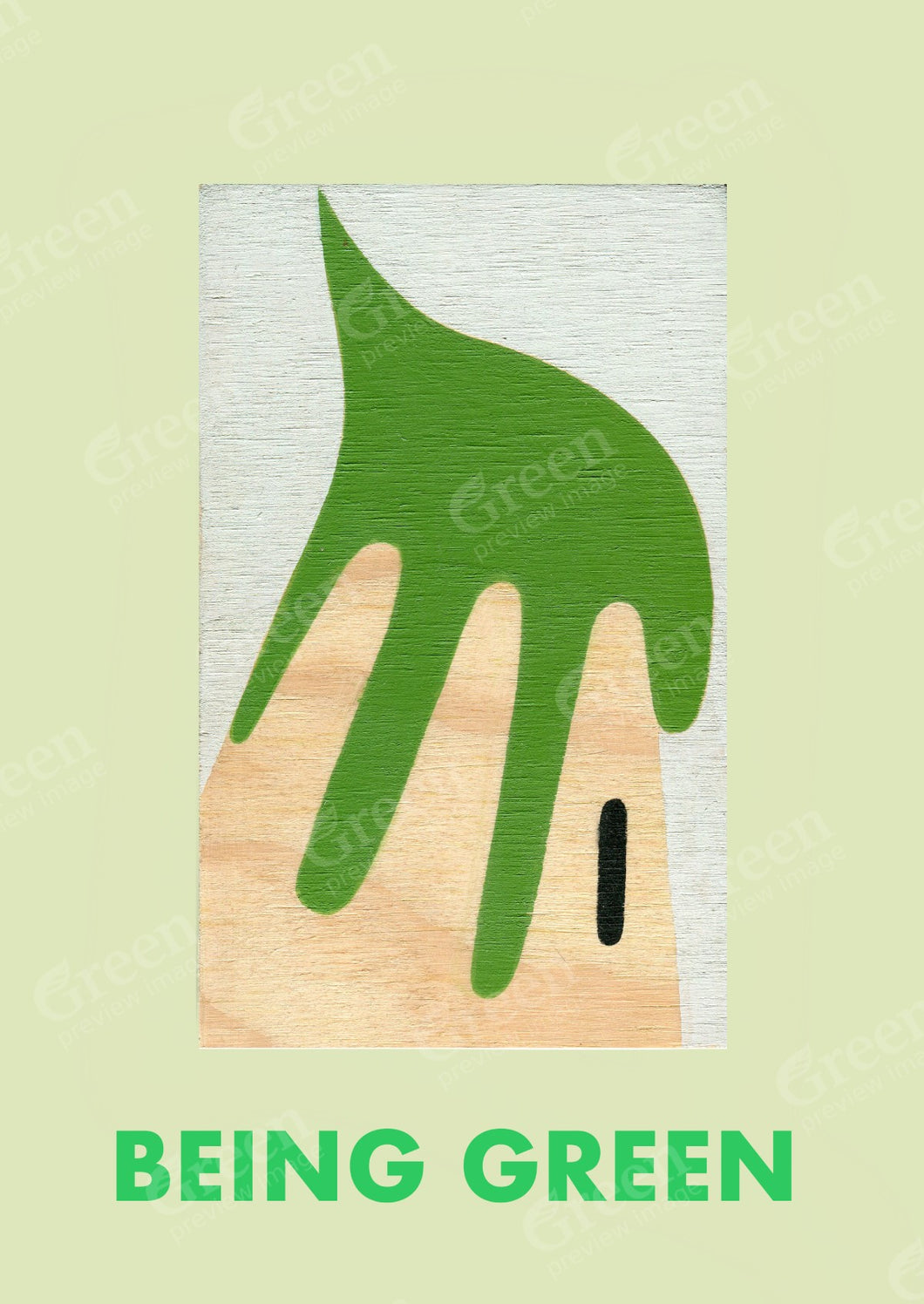 Being Green by Mark Braunias (A2) - The Bigger Picture
Regular price $99.00 Sale
Being Green – Mark Braunias
Orders close on 5 December for delivery by 15 December.
About the artwork:
An abstracted human face in a wood grain profile and a sub tropical leaf on its head stares straight ahead against the backdrop of an industrial grey world. The human being Being Green.
About the artist:
Mark Braunias is a New Zealand based artist who has exhibited extensively for 35 years. He graduated with a BFA from Canterbury University, Ilam School of Fine Arts, Christchurch in 1988.

Braunias was the inaugural winner of the Wallace Art Award in 1992 and received a Wallace/Fulbright scholarship to complete an artist residency at Headlands in San Francisco during 2011. Braunias has also completed artist residencies at the Dunedin Public Art Gallery (2002), William Hodges Fellowship, Invercargill (2005), Tylee Cottage, Whanganui (2007) and the Dunedin School of Art (2019). In 2021, Braunias was awarded the national Parkin Drawing Award.
His work is held in public gallery and private collections including: Te Papa Tongarewa, Christchurch Art Gallery, Dunedin Public Art Gallery, Sarjeant Art Gallery, Tauranga Art Gallery, Auckland University, Canterbury University, Massey University, Lincoln University, Fletcher Trust Collection. Braunias is represented by Anna Miles Gallery in Auckland.

---
Posters will be shipped separately to anything else purchased on our online shop. They will be delivered in a cardboard flat-pack to ensure they arrive in perfect condition. Poster shipping is free.

Poster details: A2 (594mm x 420mm), 300gsm paper. Available in either Satin or Matte finish. Matte is recommended if you plan on framing the artwork (although satin looks great framed too - so choose satin if you aren't sure).
Note: Actual poster art does not include watermark.
This digital print is a part of the Bigger Picture campaign - selling reproductions by artists across Aotearoa to help us raise funds for our 2023 general election campaign. Please click here to find out more about this initiative.
---