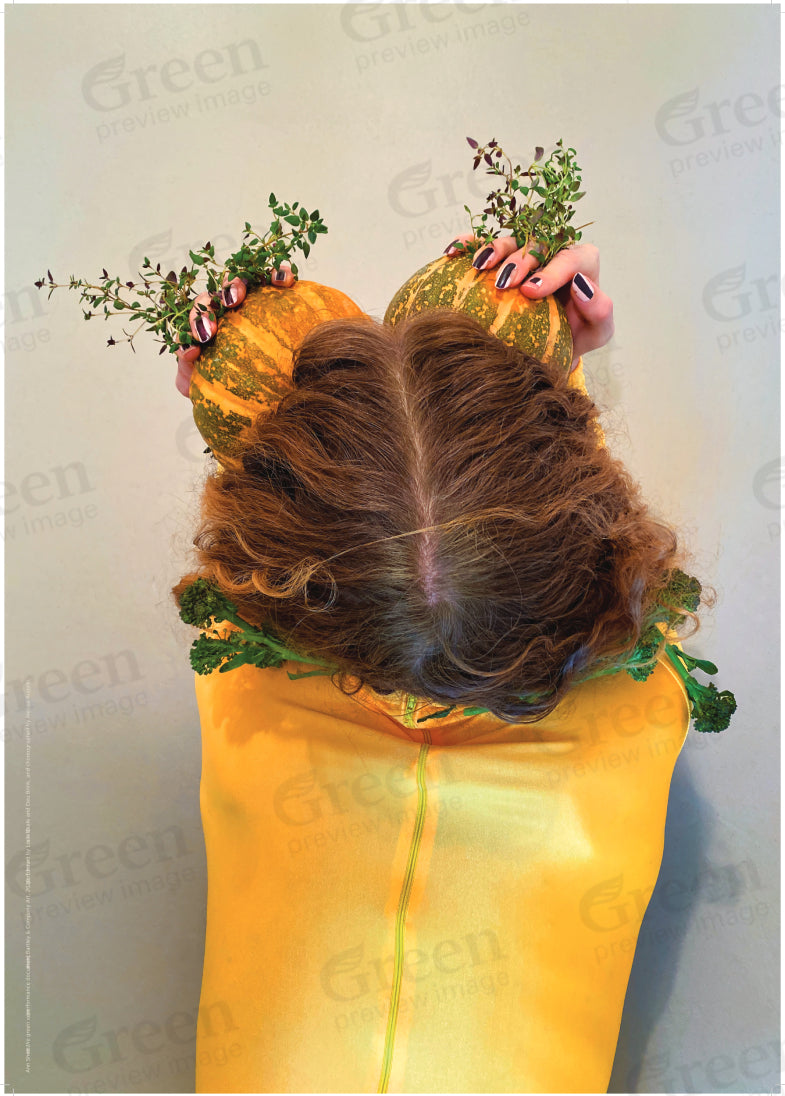 The Green Vein- Ann Shelton (A2) - The Bigger Picture
Regular price $99.00 Sale
The Green Vein - Ann Shelton 

The next promotion will be open before the election in October. Orders after 11 September and up to the end of our promotion in October will likely be done at the end of October, early November.
About the artwork:

The Green Vein is a performative exploration of the technology of food, its propagation, and preservation, and supply through alternative networks. The performance explores this simultaneously ancient and futuristic technological apparatus through an artistic, conceptual and aesthetic ritual constructed by the artist.

On this occasion, The Green Vein is performed in relation to and alongside a series of photographs also by Shelton, titled 'mother lode', which depict a contemporary Community Supported Agriculture biodynamic farm in the Wairarapa of which Shelton is a founding member.

Referencing key performance works by Geoffrey Hendrix (From the Sea, 1985) and Petr Stember (Grafting, 1975) Shelton's new performance also takes up a visual language which attempts to reconfigure human relationships with nature. In The Green Vein plant material is put into close physical proximity with bodies, conveying intimacy with nature but also throwing up images of nature gods and ritual figures such as the Wicker Man and The Green Man, medieval May Day maidens or Archimboldi paintings that populate multiple Western cultural traditions.

See more information on the project and book here.
About the artist: 
Ann Shelton, Pākehā/Italian (b. 1967, Aotearoa New Zealand, MFA University of British Columbia, Canada). She lives in Te Whanganui-a-Tara Wellington and exhibits internationally. Her museum survey, Dark Matter, curated by Zara Stanhope (Director, Govett-Brewster Art Gallery) was hosted by Auckland Art Gallery Toi o Tāmaki in 2016, toured to Christchurch Art Gallery Te Puna o Waiwhetū in 2017. Shelton's work has been extensively reviewed in publications including Artforum, Hyperallergic, artnet news, and Evergreen Review. Shelton is represented by Two Rooms (AK), Bartley & Company Art (WGTN) and Denny Dimin (NY) where in November 2022 she will present her solo exhibition 'i am an old phenomenon'.
---
Posters will be shipped separately to anything else purchased on our online shop. They will be delivered in a cardboard flat-pack to ensure they arrive in perfect condition. Poster shipping is free.

Poster details: A2 (594mm x 420mm), 300gsm paper. Available in either Satin or Matte finish. Matte is recommended if you plan on framing the artwork (although satin looks great framed too - so choose satin if you aren't sure).
Note: Actual poster art does not include watermark.
This digital print is a part of The Bigger Picture - selling reproductions by artists across Aotearoa to help us raise funds for our 2023 general election campaign. Please click here to find out more about this initiative.

---