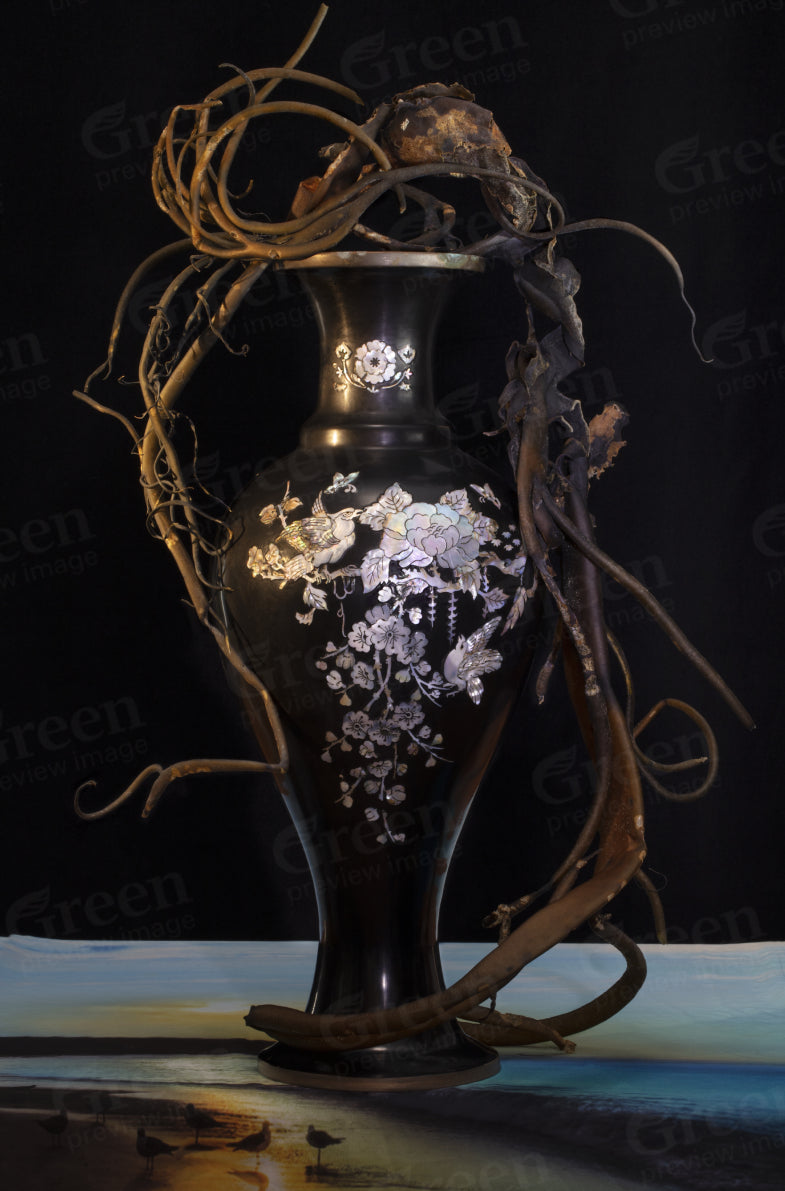 Bluff Rimurapa in a Korean Vase Piha - Fiona Pardington (A2) - The Bigger Picture
Regular price $99.00 Sale
Bluff Rimurapa in a Korean Vase, Piha - Fiona Pardington

The next promotion will be open before the election in October. Orders after 11 September and up to the end of our promotion in October will likely be done at the end of October, early November.
About the artwork: Limited Edition

My father's family are from Bluff. They were fishermen and oyster merchants. I collect seaweed and seawater from places that are close to my heart. This rimurapa is from Sterling Point, Bluff. There is much to say about my whakapapa in this still life, but I'm interested in what you can bring to this photograph. Memories of your own that may be stirred up in gazing upon it. These are just as precious as my own. There is no such thing as objective reality.
About the artist: 
Dr Fiona Pardington was born in Auckland. She is of Māori (Ngāi Tahu, Kati Mamoe and Ngāti Kahungunu) and Scottish (Clan Cameron of Erracht) descent. She holds a Doctorate in Fine Arts from the University of Auckland.
At the heart of Fiona Pardington's practice is an abiding concern with emotion and affect. A practitioner with over three decades experience as an exhibiting artist, she has explored the on-going capacities of photography by attending to that which is hidden or unseen in the photograph as much as what it may represent. 
Recent bodies of work by Fiona include Tiki: Orphans of Māoriland, 2019, Tiki: Orphans of Māoriland, 2020 and Tarota, 2021.
You can see Fiona's full biography here.
---
Posters will be shipped separately to anything else purchased on our online shop. They will be delivered in a cardboard flat-pack to ensure they arrive in perfect condition. Poster shipping is free.

Poster details: A2 (594mm x 420mm), 300gsm paper. Available in either Satin or Matte finish. Matte is recommended if you plan on framing the artwork (although satin looks great framed too - so choose satin if you aren't sure).
Note: Actual poster art does not include watermark.
This digital print is a part of The Bigger Picture - selling reproductions by artists across Aotearoa to help us raise funds for our 2023 general election campaign. Please click here to find out more about this initiative.

---