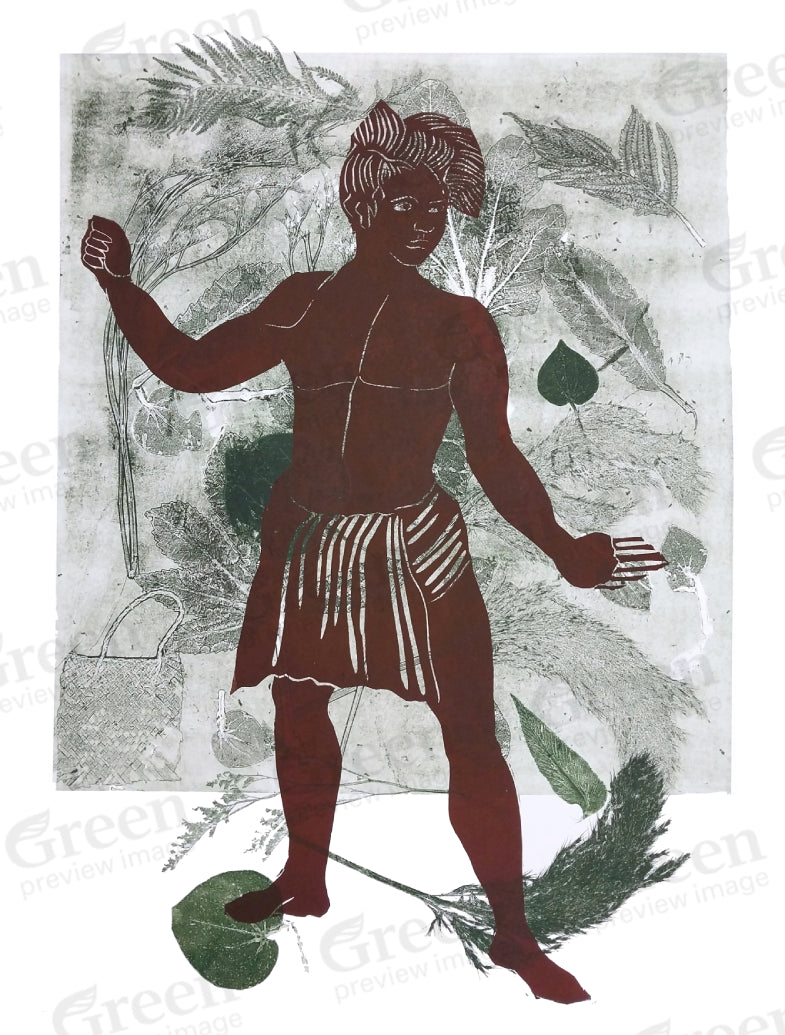 Nature Boy - Sheyne Tuffery (A2) - The Bigger Picture
Regular price $99.00 Sale
Nature Boy - Sheyne Tuffery

Artworks purchased after 17 July will not be fulfilled until the next promotion ends late August. Printing will be done early September.
About the artwork: 
The idea for this monoprint with woodblock, came about during the first covid lockdowns. All the leaves and ferns were collected by my son and I during our small breaks outside the house everyday. We would walk up to the local park to see what we could find to bring home to my makeshift studio. It was a wonderful way to connect with nature and find inspiration during the lockdowns. 

About the artist:
Sheyne Tuffery is a Wellington based Visual Artist who uses a range of art forms to facilitate his visions of Pacific urbanisation. Sheyne received a Bachelor of Visual Arts from AUT in 1995 and his Masters of Fine Arts (honours) in 2000 from The University of Auckland.
He is perhaps best known for the dynamic style of his themed woodblock prints of South Pacific Architecture and the Ornithology of Aotearoa. Tuffery describes himself as a paper architect who uses his work to create and represent his own cultural context and sense
of belonging.
"My art started from the non-identity of my mixed heritage background (Palangi/ Samoan) to evolve into a surrealist vision of South Pacific Patterns, structures, symbols and paper architecture."
His new work explores the fragility of Earth's ecosystems to investigate whether there is spirituality in science.
---
Posters will be shipped separately to anything else purchased on our online shop. They will be delivered in a cardboard flat-pack to ensure they arrive in perfect condition. Poster shipping is free.

Poster details: A2 (594mm x 420mm), 300gsm paper. Available in either Satin or Matte finish. Matte is recommended if you plan on framing the artwork (although satin looks great framed too - so choose satin if you aren't sure).
Note: Actual poster art does not include watermark.
This digital print is a part of The Bigger Picture - selling reproductions by artists across Aotearoa to help us raise funds for our 2023 general election campaign. Please click here to find out more about this initiative.

---